At the heart of Arusha Science School is the Science-In-To-Use (SITU) department, where students learn how to use their knowledge, skills, and talents to become competitive innovators and entrepreneurs in the world.
To make this possible, SITU has partnered up with some organizations to accelerate the hands-on learning approach for our students. We continue to work with:
Tanzania Horticultural Association (TAHA): TAHA assists with training our staff and students in Agriculture & Nutrition.
International Certificate For Digital Literacy (ICDL-AFRICA): We have partnered with ICDL – AFRICA to offer internationally recognized computer literacy certificates for all students.
Mas Africa: Through the Mas Africa group, students of the University Of Aldofo Ibanez – Santiago, Chile support SITU with annual funding for interschool workshops and projects.
STEM-Impact Center Nairobi: Offers material support during inter-school Robotics workshops, supplying SITU with LEGO Education Robotics Kits
Project-based Learning
Confidence Building
New Age Technologies
Workshops
Community Outreach
Project-based LearningStudents move from laboratory experimentation to projects that involve subject topics put into use. Student projects are assessed by the strength of problem-solving techniques in the immediate community.
Students are taught how to present and write out their projects.
As of 2022, Arusha Science has 20 ongoing projects exploring various areas from agricultural, biological, chemical, and mechanical engineering, to 3D printing, and Drone technologies.
Confidence BuildingStudents participate in daily or weekly public speaking activities in and outside the classrooms. Students participate in special out-of-school events where they speak about their ideas, projects, and the importance of STEM in today's world.
Students are required to teach their peers in the classroom to further improve their communication skills.
Students also engage in student exchange workshops where they manage everything from organizing, instructing, and demonstrating various co-curricular activities to peers from outside the school.
Furthermore, students participate in clubs that cater to their interests and talents, showcasing annually what they work on.
New Age TechnologiesWe strive to introduce our students to the ever-changing world of technologies. Our students are exposed to 3D printing, Mixed Realities (Virtual and Augmented Realities), and Robotics workshops to get up to speed with the world.
WorkshopsLife After School Tips (LAST):
Our LAST program provides short courses on soft skills and basic knowledge deemed useful before heading to university. Students are taught how to write professional emails and CVs, how to use platforms like LinkedIn, Zoom, and the importance of online certification through MOOCs (Massive Open Online Courses). Students are also taught Financial Literacy and are helped in setting up personal savings accounts in collaboration with CRDB Bank Tanzania. Students are also introduced to mobile apps that make life easier such as Uber and Airbnb.
Business Idea Zetu (BIZe):
A fun and interactive holiday program where students are given tools to aid their Business Startup ideas. Students are taken through making Business Model Canvases, Proposal Writing for Funding, Pitching, and Design thinking activities. Most Ideas deal with problems students face.
Community OutreachAIDIM:
AIDIM is Maasai for "I can" and it is a community outreach program where our students are paired with a pre & primary school in our community (Laroi Village, Oljoro) to teach, train and monitor learning programs.
The aim of the project is to provide productive means for A-level students to spend their time after finishing high school studies. Students will gain valuable working experience for positive future career development and University admission eligibility.
In turn, schools in the community thrive with new creative ways of teaching young people Literacy, Computer Skills, and Mathematics.
Africacademy Maker Space Arusha (AMSA):
The STEM center operates as a training space for students across the region to learn the basics of STEM related subjects, mostly engaging in hands-on activities in Electronics.
SISI (Skill Improvement for Staff Initiative)
SISI exists for the sole purpose of uplifting our non-teaching staff into more formal roles in society. Non-teaching staff that shows interest and promise are given the opportunity to train in computer basics and assist in office work after their normal working hours. This provides them the opportunity to contribute and earn as assistants during peak seasons when the school requires an extra hand. The staff are then welcome to apply for formal jobs should the opportunity present itself.
ACHIEVEMENTS
We believe in exposing students to internal and external competitions to challenge and motivate them to move forward successfully. Since launching our programs in July 2020, our students have participated in three Major Regional and National competitions with great achievements.
Video: https://www.youtube.com/watch?v=RBKl51VOsUo
YOUNG SCIENTISTS TANZANIA (YST) 2022                                                                                                                    Project Title: Crop Moisture Sensor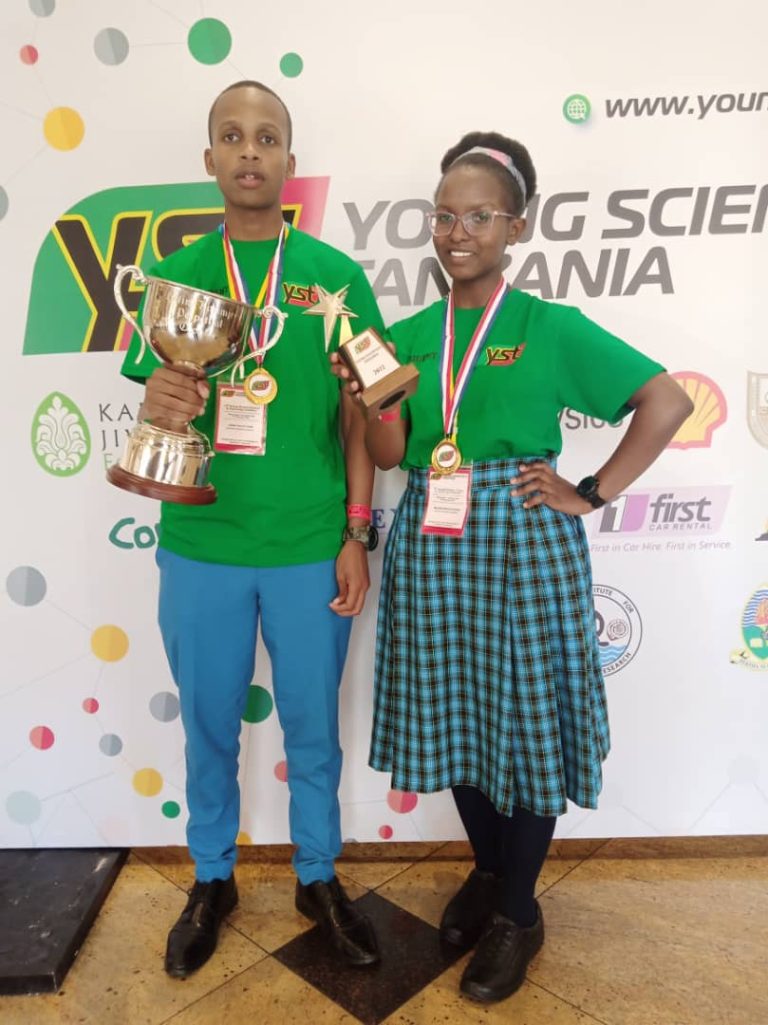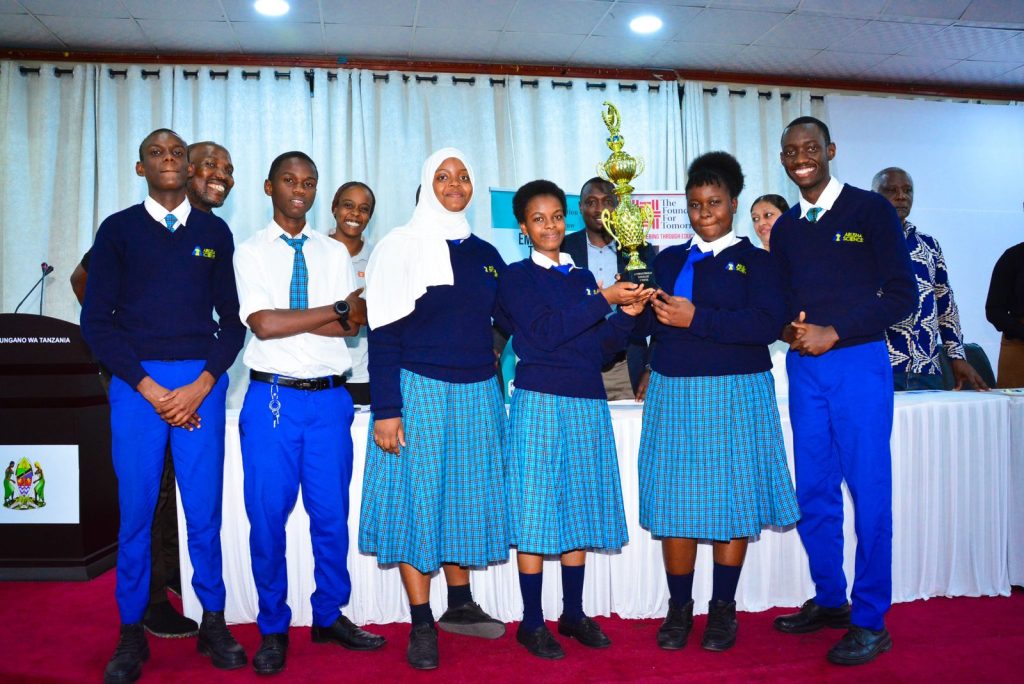 JUNIOR ACHIEVEMENT AFRICA NATIONAL  COMPETITION(2022)
1st Place winner National Company of the Year Award -Koko Georgies(Form 5),Mwanahawa Rashidi(Form 5),Junior Bonaventure (Form 5),Ebenezer                                                                       Project Title: Kibega Company
2nd Place winner National Company of the Year Award – Shamila Geofrey(Form 5),Francis(Form 5),Hatibu Nuran (Form 5), Genesis (Form 5)                                                       Project Title: Beba Company
TANZANIA NATIONAL DEBATE CHAMPIONSHIPS(TNDC)-2021
 Finalists in the "Public Speaking" Category – Regina Mlay and Solomon  Makune (Form 5)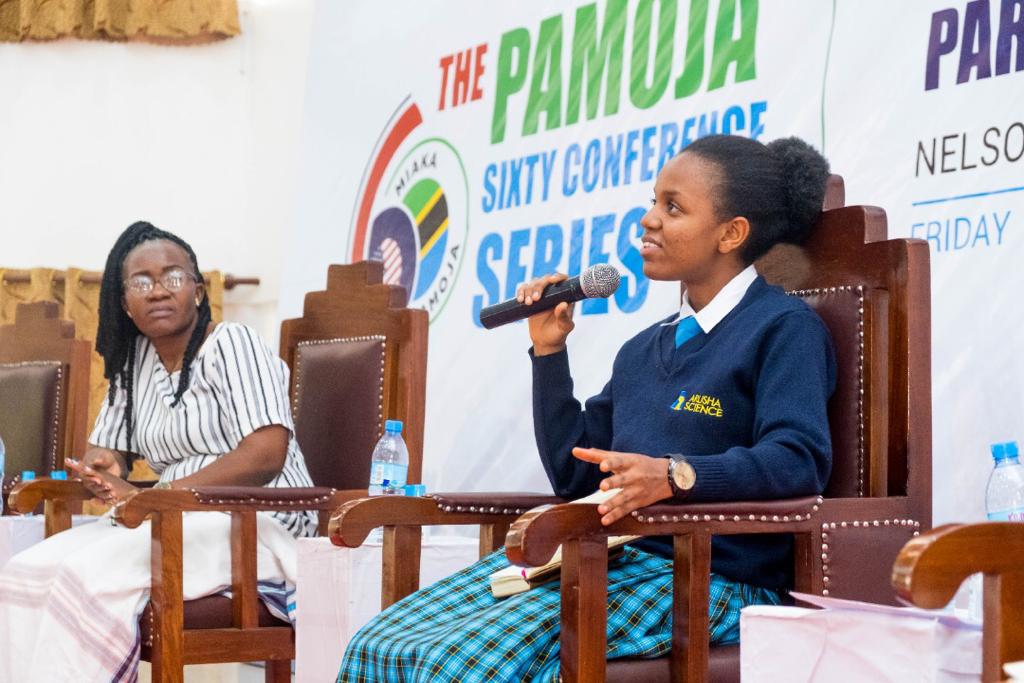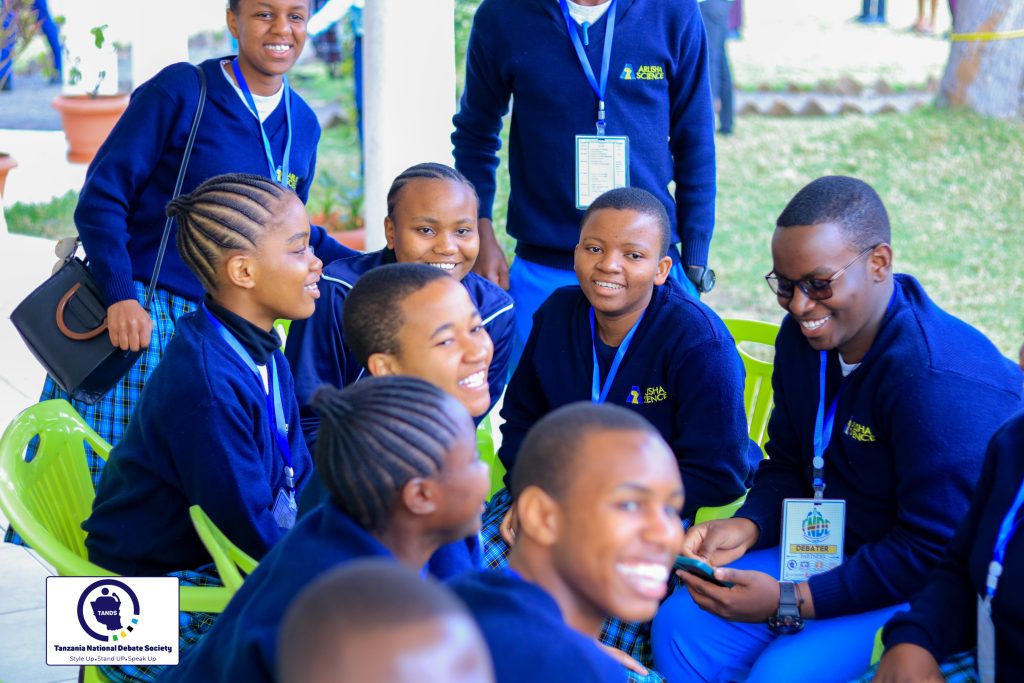 YOUNG SCIENTISTS TANZANIA (YST) – 2021
1st Place in the "Technology and Computer Sciences" Category – Emmanuel Kamishina and Abdulnasser Nkya (Form 6)                                                                                                                      Project Title: Water level monitoring using an Ultrasonic Sensor   Video: https://drive.google.com/file/d/1M7F7Sv1QFA6CzJBHqB_6AAg8vZDG29UE/view 
2nd Place in the "Climate Change and Environmental Sciences" Category – Abdulrahim Malya and Adrinah Msele (Form 6)                                          Project Title:Domestic Water Treatment to extend water supplies and improve irrigation.                                                                                                                                                                     Video: https://drive.google.com/file/d/1wCvrGusex_MYgE5-wsixjkEoWkLNkj7f/view
ARUSHA INNOVATION SUMMIT 2021
2nd Place in the "Young Innovators Award" Category – Brian Chami and Brenda Mapogo (Form 5)Project Title: Crop Moisture Sensor 
3rd Place in the "Young Innovators Award" Category – Martha Leole and Oscar Malogo (Form 5)Project Title: Soap Making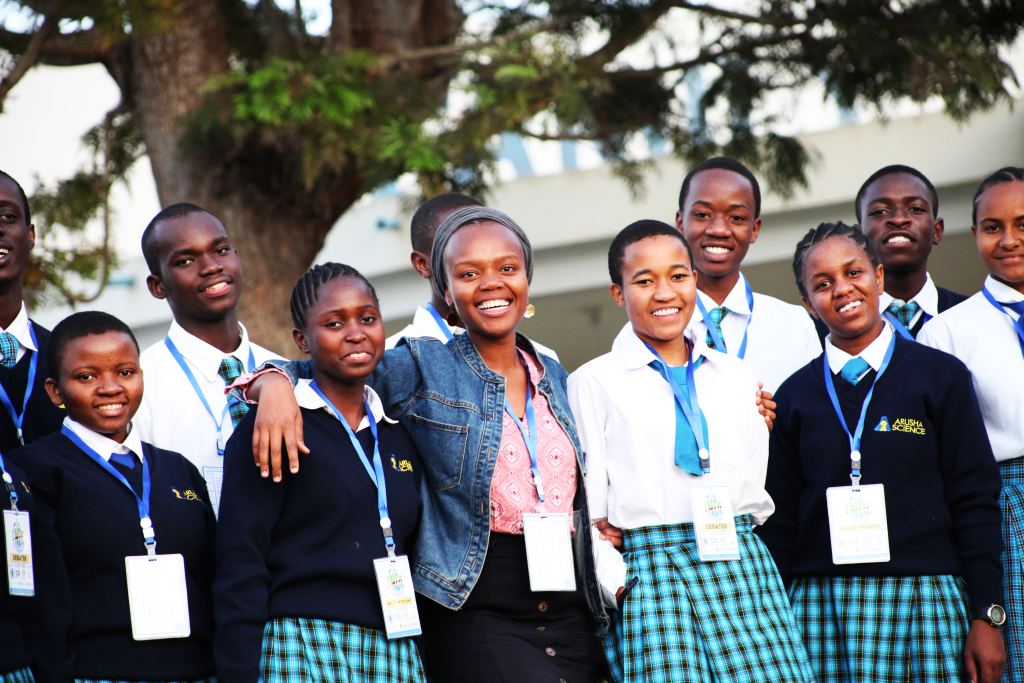 FIRST RUNNER
We attended the  Innovation Week, organized by COSTECH. Junior Bonaventure showcased Kibega Company, an online grocery store ensuring fair compensation for grocery carriers. Noela Kimaro presented BEBA Company, an e-learning platform providing competency-based educational materials. Baraka Kileo amazed attendees with the AI-powered chatbot, Jibu Fasta. Angel Mtakwa showcased a solar-powered chiller for preserving vegetable freshness. Hatibu Nuran demonstrated 3D printing technology's applications. Elifadhili Mchome and Beatrice Kisenge presented a solar-powered car. We won first place in the science and technology category for secondary schools.
JUNIOR ACHIEVEMENT(JA) AFRICA COY COMPETITION (2023)
LAGOS NIGERIA
GB Rising Leader Award –  Koko Georgies (Form 5)
Bloomberg Changemaker Award winner
Koko Georgies(Form 5),
Mwanahawa Rashid(Form 5),
Junior Bonaventure(Form 5)
Best Facilitator Award  – David Ojok (Alumni)
JUNIOR ACHIEVEMENT(JA) AFRICA COY COMPETITION (2023)
LAGOS NIGERIA
GB Rising Leader Award –  Koko Georgies (Form 5)
Bloomberg Changemaker Award winner
Koko Georgies(Form 5),
Mwanahawa Rashid(Form 5),
Junior Bonaventure(Form 5)
Best Facilitator Award  – David Ojok (Alumni)